Meet the Team
Neil & Jen Thompson
Auxiliary Lieutenants, Corps Officers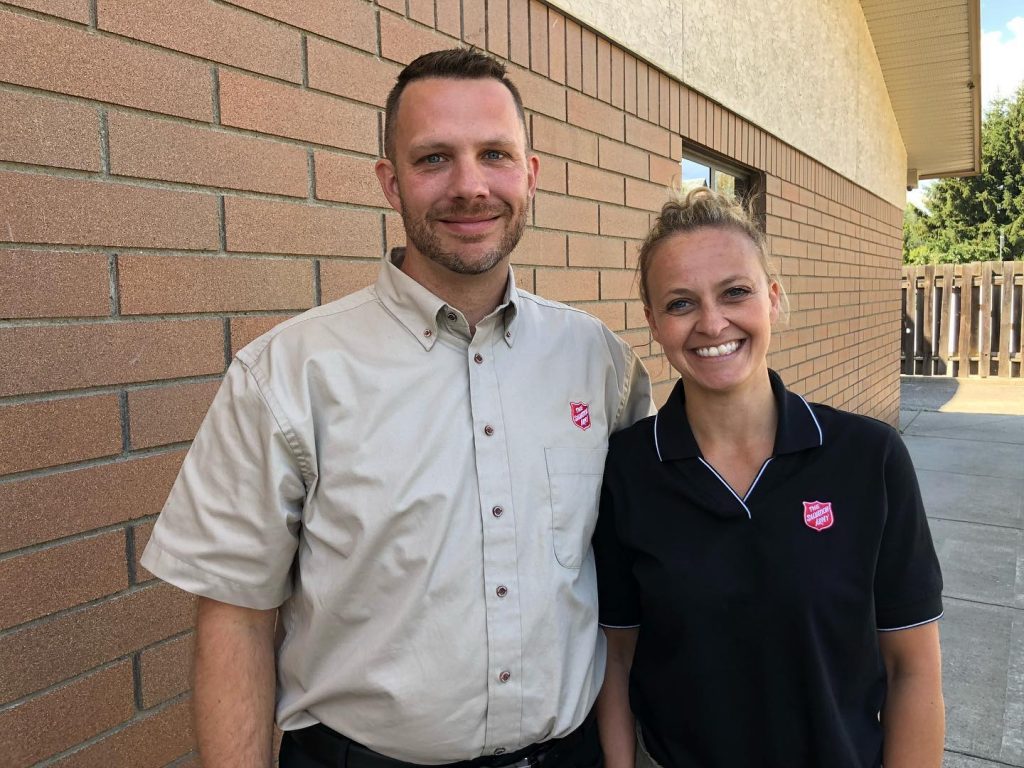 Neil & Jen are new to this role, but are very familiar with serving within The Salvation Army. Both Neil and Jen come from families who attended a Salvation Army, worked at summer camps as teens, and have worked and volunteered in various positions within The Salvation Army over the years. Now, serving as Corps Officers, they are eager to lead their team in this capacity.
Neil and Jen, along with their four sons, enjoy all that the beautiful Okanagan has to offer and are often found walking or biking on our beautiful trails, spending time at Kal Lake, or playing baseball at the field.
---
Christine Burge, CPA, CGA
Business Manager
Christine takes care of all our accounting and employment resources needs. Christine calls Vernon home and is often found outdoors exploring the beautiful mountains and lakes.
---
Sandra Rowsell
Community & Family Services Coordinator
Sandra comes to us from Ottawa with a wide array of experience, knowledge, and gifts. As a Community and Family Services Coordinator, Sandra oversees the Food Bank, Family Services programs, and our Emergency Disaster Services. Filled with compassion and joy, Sandra is eager to learn the new role and is hopeful for what the future has in store.
---
Tina Phillips
Receptionist/Administrative Assistant
Tina is the first friendly face you see when entering The Salvation Army House of Hope! She is happy to assist anyone coming in our doors with accessing the resources they need and is a fountain of knowledge regarding programming and services offered by The Salvation Army in Vernon.
---
Tracy Mellott
Administrative Assistant/Volunteer Coordinator
Tracy is valued, reliable and hard-working! She brings joy, passion and excellence to our team. Tracy looks after many projects and detail-oriented tasks around the House of Hope. She also coordinates our Volunteer Program and ensures that our volunteers are appreciated and cared for.
---
Laura Richardson
Family Services Worker
Laura is a dedicated and caring member of our team! She works hard, assisting those in need. Laura looks after intake of clients for food hampers, referrals to Salvation Army and other community agency resources and spiritual care. She takes the time to meet one-on-one with each individual, to ensure that physical, spiritual and emotional needs are cared for.
---
Jillian Penney
Children and Youth Coordinator
Jillian comes to us all the way from Newfoundland, where she studied and graduated with her degree in Social Work.  She has a passion for encouraging young people, building relationships and creating a safe environment for children to experience a community of belonging.
---
Dean Sauve
Warehouse Supervisor
Dean is a dedicated and hard-working member of our team. He ensures that food coming into the House of Hope is efficiently sorted and stocked for distribution to our clients. Dean is so appreciative of the food donations that the community so generously provides and for the many volunteers who assist him in receiving, sorting and making hampers.
---
Our Volunteers
We are grateful to our many volunteers who faithfully work at the front desk and in our warehouse. They provide many hours every week in order to ensure that the needs of our clients are met and that our Food Bank processes continue without interruption. We continually invite interested individuals to join our team of volunteers by clicking on the "Contact Us" button.
---
Majors Phil & Bev Franco (retired 2013)
Pastoral Care Team
Phil and Bev Franco were ordained and commissioned as Officers in The Salvation Army in 1990. After serving in Ontario, Manitoba, and Victoria BC, they were appointed to Vernon in 2008 as the pastors for the church, and with oversight of The Salvation Army's ministries until their retirement in 2013. Always passionate for helping others, Phil and Bev remain active in caring for the community in a new role as part of the pastoral care team.
They know from experience that hunger, an acute need, is not the only need. There is the hunger of the heart! Many who enter the doors of the House of Hope are in need of just that – hope!
One of the roles that Majors Phil and Bev take seriously is that of spiritual counselling. The House of Hope is a place where clients are invited and enabled to explore the possibility of a satisfying relationship with their Creator, and deal with life's spiritual dimension.
---