Volunteer at the House of Hope

Volunteers are valuable assets in The Salvation Army's efforts to meet the changing needs of our world. Salvation Army volunteers change lives, uplift families and support communities throughout Greater Vernon everyday.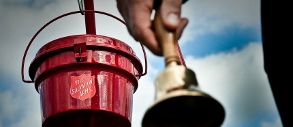 The Christmas season is almost upon us and that means The Salvation Army will be ringing the bells again soon! The funds through our Annual Christmas Kettle Campaign keep The Salvation Army in Vernon operating all year. We are very fortunate to have a supportive community to help us through the campaign.
We have Kettles at 11 locations throughout Vernon. The Kettle shifts are available Monday – Saturday from 11am to 8pm, with most of the shifts being 2 hours long. Whether you volunteer on the kettle individually, as a family, a team or with your co-workers, it is a great way to give back this Christmas season!
If you would like to sign up for a shift, please click here to see Bell Ringing Opportunities! or contact our Kettle Coordinator, Bev Franco, @ 250-307-7770 or [email protected] 
---
Volunteer to Help
If you wish to volunteer to help with our day-to-day programs and services at the Food Bank or Thrift Stores please contact us:
We are particularly in need of volunteers at our two Thrift Store locations! If you are interested, please contact Jillian today!