Vernon BC Food Bank Information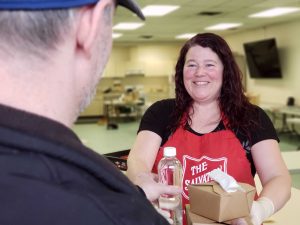 The House of Hope has been an active contributor to Vernon's social fabric for over 25 years. More than 1100 people are being assisted through the Food Bank's programs each month. About 32% of those we assist are youth and children under the age of 18 years. Each of these needy persons would have gone hungry without the generous support and kindness of our community.
We operate under the name "House of Hope" because we work every day to restore a sense of hope and dignity for all who enter our doors.
The Salvation Army Food Bank in Vernon BC is a member of Food Banks British Columbia (FBBC) and an affiliated member of the Canadian Association of Food Banks. We are the only authorized Food Bank in Vernon.
Need Food Assistance? We're here to help!
If you need help please call (250) 549-4111 or visit us to make an appointment to see an intake worker. You are required to bring in the following information:
identification for each household member
proof of address
proof of rent
proof of income
Where are we?: located at 3303 32 Ave Vernon downtown off the highway just behind Staples.
The Vernon BC Food Bank would like to thank the community for it's generous support. Often the House of Hope is asked what the most important items that they can donate to help a family in need. Here is a list of the top ten most needed items that you can donate to the food bank.
Milk
Meat Products
Breads
Boxed grains (rice, cereals, pastas)
Peanut Butter
Fresh fruits and vegetables
School time snacks
Soups, and pasta sauces
Hygiene Products (Shampoo, soap, deodorant, razors, feminine products)